Discover more from Ovahi
Innovation and technology analysis, grounded in reality. I might be writing more about blockchain and crypto but I will also delve into other topics such as angel investing trends and corporate innovation.
No, the Pandemic Isn't Accelerating Digital Transformation
Welcome to the latest edition of my newsletter. If you are not a subscriber, please use the button below to sign up. You can send your feedback to mohammed@ovahi.com or  @ghalayini_m. And if you enjoy today's essay, please share it with others!
---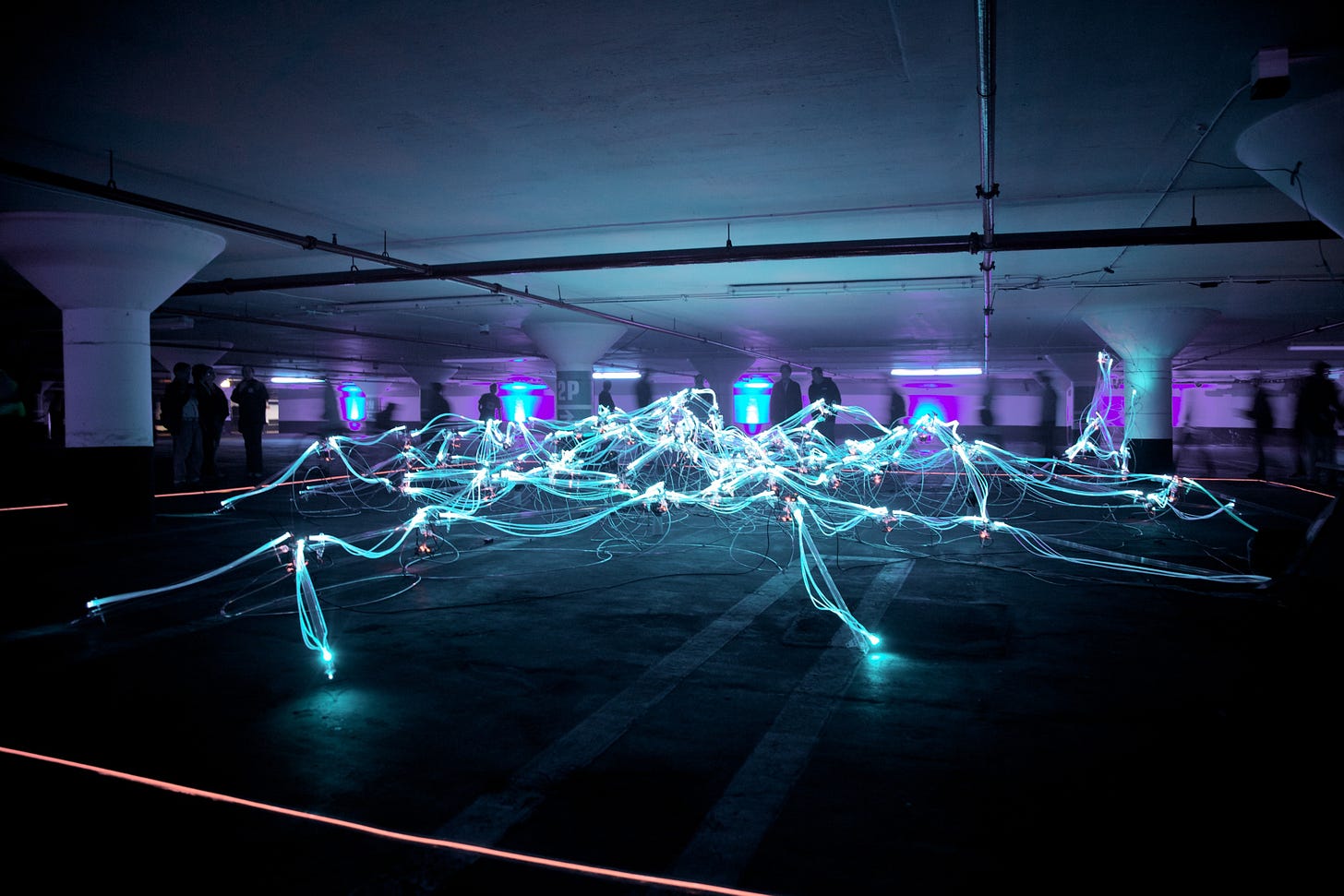 Microsoft's Satya Nadella pronounced that, amid the pandemic, they've "seen two years' worth of digital transformation in two months." Nadella's words quickly became a catchphrase, which appears ad nauseam, though in different forms, in articles and thought-pieces that seem to come out on an hourly basis.
For example, Forbes said that "because of COVID-19, manufacturing will experience five years of innovation in the next 18 months". Bain noted that "Digital roadmaps once measured in years accelerated rapidly in days." And Accenture declared that they were seeing "three years of digital and culture transformation in three months." You get the drift.
Nadella backed his statement with impressive numbers on the daily usage of Microsoft's remote work and learning tools. There's no doubt that the use of communication and collaboration tools exploded during the pandemic's lockdown period. But the accelerating digital transformation narrative is hype and does not stand up to scrutiny.
Digital transformation is decelerating due to the pandemic
The Great Lockdown is the deepest recession in 80 years, and its effects on the economy and, therefore, digital technology progress are profound:
Enterprise demand for tech is down
As companies entered cost-cutting mode, they put many digital transformation initiatives on the back burner. As a result, technology consulting giants like IBM, HP Enterprise, Deloitte, and Accenture laid-off employees, cut pay, froze hiring, and canceled bonuses. Typically, those consulting firms are the ones executing massive digital transformation projects of all sorts at the largest companies.

Trustradius, a B2B software database, surveyed enterprise software buyers and found that the number of those who said they would be spending more on software in the near future dropped sharply from 40% in March (pre-lockdown) to 16% in May.

Digital transformation darlings, software-as-a-service (SaaS) and robotic process automation (RPA) companies, have been sounding alarm bells due to the pandemic. Salesforce lowered its revenue guidance for its 2021 fiscal year. Slack and Smartsheet each withdrew their previously issued earnings guidance, an ominous sign. Automation Anywhere, an RPA leader, is estimated to have laid-off more than 10% of its workforce.
Pandemic-induced digital experiences are suboptimal
Four-months into the lockdowns, companies of all stripes are still struggling to deal with customer service loads. The phrase "Due to COVID-19, you may experience longer than normal wait times" is plastered all over the websites of banks, telcos, insurers, and governments. For sure, jittery customers are flooding call centers, but why aren't digital channels absorbing the increased inquiry volumes? And of course, call center agents are working remotely and struggling to keep up, but where is the remote-work digital and cultural transformation that Microsoft and Accenture proclaimed?

For banking, Bain echoed the above point by saying that "for many banks, the number of transactions completed in digital channels appears to have grown less than many anticipated—10% to 20%." Bain went on to explain that complex transactions, such as seeking wealth advice or opening an account, still require human intervention and have "shifted not to digital, but to contact centers."

Remote work using collaboration and communication technologies has been getting mixed reviews. It doesn't work equally well for all companies or even for departments within the same company. IT departments might thrive in remote work settings, but the same cannot be said about sales or marketing groups. Productivity, burnout, and isolation are still being understood. As for the remote learning experiment, almost every parent and teacher will tell you that it has failed. It will take time for companies and institutions to figure out the right balance of in-person and remote.
E-commerce leaders continue leading while others lag
The clear e-commerce winners are the ones who have been investing in e-commerce technologies and infrastructure for years like Target, Walmart, and of course, Amazon. The contrast between Indigo, a bookshop in Canada, and Canadian Tire, a multi-category retailer, perfectly illustrates this point. Indigo, which has a long and substantial e-commerce presence, effortlessly absorbed increased COVID volumes. Canadian Tire, on the other hand, with its "1997-like website," was instantly overwhelmed. The company urged customers to avoid online shopping during business hours and to place phone orders instead. Greg Hicks, Canadian Tire's CEO, said that they would be upgrading to a more modern e-commerce platform "later this year." Apparently, Mr. Hicks didn't get the accelerated digital transformation memo.

Shopify, which provides struggling businesses with nifty ways to pivot to e-commerce, has been hailed as a "phenom" during the pandemic. This has reflected handsomely on its stock price, which more than doubled since the beginning of the year. But the company withdrew its 2020 earnings guidance, citing COVID-related uncertainties. And in its Q1 earnings report, the company stated that it has been seeing an "uptick in subscription cancellations and merchants downgrading to lower-priced subscription plans in March, largely due to COVID." Shopify saw higher activity in April, mainly due to its very generous 90-day free trials. It's too early to make a call on small business e-commerce pivots.
It's clear that, for most companies, years of digital transformation didn't manifest in a few months. The patchwork of remote work and business continuity workarounds befit a 'short' survival mode and are hardly transformative.
Companies should ignore the hype and focus instead on building digital mindsets
A standard definition of Digital Transformation is that it's the process of using digital technologies to improve (1) employee experiences, (2) customer experiences, and (3) business operations.
This definition is lacking. I had in-depth conversations about this with my good friend, Sorubh Aggarwal, who's an expert in organization design and change management. Sorubh pointed out to me that the Digital Transformation discourse favors toolsets over mindsets.
Toolsets represent cutting-edge technologies and have long been the dominant topic that consultants and tech companies discuss. It's dismaying, during the pandemic, to see the heaps of articles and opinions claiming, predicting, or promoting breakneck digitization. For instance, a top consultancy urged COVID-19 affected companies to deploy, all at once, over-hyped usual suspects: 5G, Blockchain, Machine Learning, and Artificial Intelligence. While a major cloud provider advertizes modernization faster than the time it takes someone "to binge-watch their favorite show." This hype is absurd, unhelpful, and only adds to general feelings of anxiety.
In fact, without a sufficient digital mindset, an organization will be unable to keep up with the blinding speed of technological innovation.
In normal times, technology projects fail primarily due to people-issues. In an uncertain new world with full or partial-remote work settings, those people-issues will intensify, further complicating digital adoption and progress.
What are digital mindsets? They're the skillsets and processes which allow organizations to thoughtfully monitor, understand, evaluate, and take advantage of technologies that work for them and their stakeholders.
There's no question that every company should be on its own digital transformation journey. It's a journey, not a destination, and it begins by looking inwards.
=====
Notes & Sources: